11/5/15  5:39 p.m.    Aha!  I see I put the wrong date in for Friday Finds.   It should be November 6th.  So sorry!   I was doing that late in the hotel before we left St. Augustine last Saturday and didn't check the calendar!!!!   I've been without WIFI all week and just about 15 minutes ago, my new WIFI hookup was finalized.  Yahoo!!!!!! I'm feeling like I've missed so much from Blogland but you know I"ll be working hard to catch up with all that new.   Enjoy the Friday Finds and I'll share more soon.
First Friday Finds…First Friday in November means Christmas isn't far away.  Hopefully something you 'll see here will say "gift" to you and you can get ahead of the game.  The days to Christmas go very fast!
This first Find could be the answer to what to get the men in your family…or the gals for that matter.  Here is a great Tablet Stand Tutorial and it even recommends upcycling the leg of a pair of jeans.  How cool is that!   I found this tutorial HERE at Sewn Up, a tutorial by Theresa from Australia.
2. HERE is a lovely "Quilted Cube" bag pattern from Jennifer at Moore Approved.  I think my 'bag ladies' will enjoy this!

3.  I really like this idea.  I think it will make great gifts, whether Christmas or wedding, or other purposes.  I do plan to do this and bet you will like it too.  I found it at Pickup Some Creativity HERE.
4.  Here's a beautiful Christmas Tree skirt.  You could give this as gifts; make it for yourself or others.  It's beautiful and I don't think it would take too long to make.  I found it HERE at Paul's Block Party.
5.  I think this Find would make a lovely gift for new parents, or expecting parents.  I saw a young mother come into the restaurant the other day with one on her baby carrier and it was so attractive and it kept sounds and light from bothering her newborn.  I found the tutorial at Cluck Cluck Sew HERE.
Now on to quilts, our  five FREE quilt patterns.
 Candy Cane Stars is a FREE quilt pattern from Free Spirit.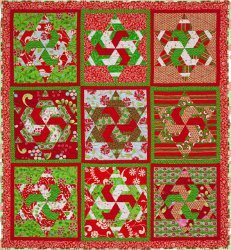 2.  "Tumbling Roses" is a FREE pattern by Amy Butler Design
3.  "Fan Dance Quilt" FREE quilt pattern comes to us from Janome and Anna Maria Horner.
(Photograph not available, but definitely hop over to see this gorgeous version of a Dresden Plate quilt.)
4.  "Katie Jump Rope" FREE quilt pattern from Free Spirit
5.  "Birds of a Feather", a
FREE
quilt pattern from Andover Fabrics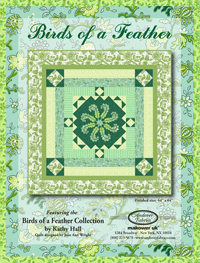 Do you have a favorite?  Of course I love them all but if I were to choose one to make right now it would be "Birds of a Feather".
I hope you find some things here that make you want to drop everything and get started on a new project.  If not, I hope you will definitely note that you found it here at QuilterinMotion and come back to it later.
I appreciate your dropping by to see the Friday Finds and I want to say that I appreciate all the wonderful talents of the bloggers and designers who give their patterns and tutorials to us freely week after week.  Without them, Friday Finds would not exist.
Until next Friday for more Friday Finds,
Marsha