Friday the 13th doesn't scare you does it?  We're stronger than that and we've done those heavy machines we can always lift and use as weapons.  No fear…keep calm and quilt.
1.  Here's a tutorial for a neat quilt block.  It's called Scrappy Mountain Majesties block and the tutorial is from the talented Bonnie Hunter.  There are many layouts for this quilt block when made in multiples.  You can see the tutorial HERE.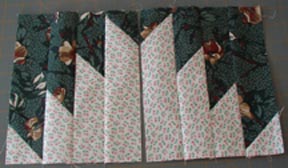 One of Bonnie's 'twists and turns' for this block.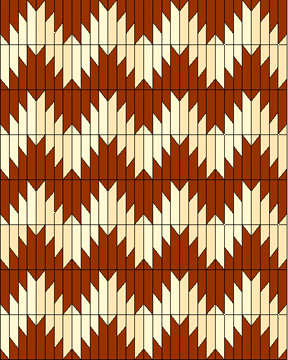 2.  It's Spring Time and maybe you'd like a new Spring pincushion.  I found these sweet birdie pincushions and kept the tutorial aside for Spring.  I found it over at A Bright Corner blog HERE.
3.  Here's a lovely four-patch quilt with a nice block tutorial from Tamarack Shack HERE.  I keep staring at the free motion quilting!  It's so eye-catching!
4.  Ready for a new bag tutorial?  I found a cute Ruffle Duffle Bag Tutorial HERE that I think you'll enjoy.
5.  Here's another tote tutorial.  This is called a "Foldover Tote Tutorial" from MeSewCrazy blog HERE.
Now for some FREE quilt patterns.
1.  The first free quilt pattern comes by way of Andover Fabrics, home of American Made Brand fabrics as well as others from designers like Jo Morton whose fabric was featured in this quilt, Alexandria HERE.  Lots of flying geese!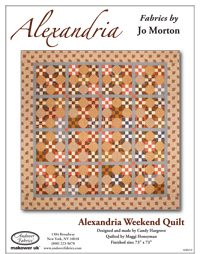 2.  This free quilt pattern is called Trail's End and comes from Robert Kaufman Fabrics HERE.  I love the center fabric but I also love all the on-point square which really bring a feel of excellence to this quilt.
3.  This bed quilt is perfect for the beginner.  It's called "Cartwheels" and  I found it HERE at freepatterns.
I hope you found some goodies here this week.  It's been fun looking for these free patterns and I hope you enjoy them.
Marsha