We're jumping into April.   I hope you have a blessed Easter weekend and if you didn't get around to looking at this blog post until Monday, it's totally understandable.  Easter is usually a family-filled, busy church weekend in our lives and I certainly do miss the family-filled part of this and every holiday.  Happy Easter to all and I hope you enjoy these Finds and Free Patterns.
1.  Have you ever used Quilter's Grid before?  I used it years ago to make several 'watercolor quilts' wallhangings.  It's pretty neat stuff and now I see that they are suggesting it for people who want to make scrappy (or planned) quilts with 1″ or 2″ squares like this:
It would certainly speed up the whole process so I thought you might like to see how to use Quilter's Grid.  I saw it HERE.  This is her finished quilt made out of hundreds of 1″ squares.
2.  Here's a sweet Spring quilt, Snowballs to Flowers, for Mom maybe for Mother's Day, or for newborn born this Spring.  It's so easy!  Snowball blocks modified only slightly.  I saw it HERE.
3.  Looking for something unique and using lots of stash fabric?   I saw this  Quartered Squares tutorial over at Film in Fridge blog and, while I don't think I will make it right away, I wanted to tuck this one in the file to find it later so here it is.  You can see it HERE.
4.  This is an EXTRA LARGE tote tutorial.  I found it HERE and it looked very straightforward with great cutting directions and step-by-steps.  This is my first introduction to this blogger and I'm happy to share her tote tutorial with you.
5.   The "Lone Star" quilt block is a very traditional block and we've all see quilts made with one HUGE Lone Star.  It's a daunting thought to me and when I saw this tutorial on how to make a Lone Star block, I thought we might all learn something about putting this traditional block together.  I found it HERE .  It does make it seem doable.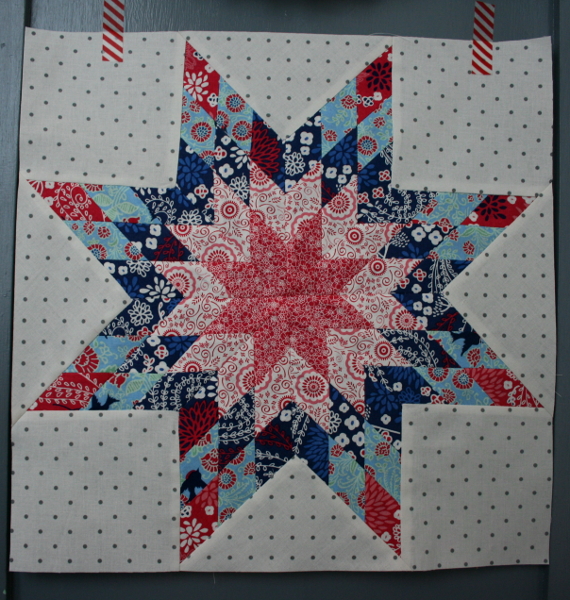 Quilt Tutorials/Free Patterns – A quilt is not a small undertaking so I suggest that you either pin the quilts you like on your Pinterest board OR you keep track somewhere of what quilts you see in these blogposts that you want to refer back to.  Knowing the date they showed up in On the Go Quilting will make it easier to track, or even just the name of the quilt should help your search for it here.
1.  Scrappy Hunter's Star Quilt Tutorial  from the Hopeful Homemaker HERE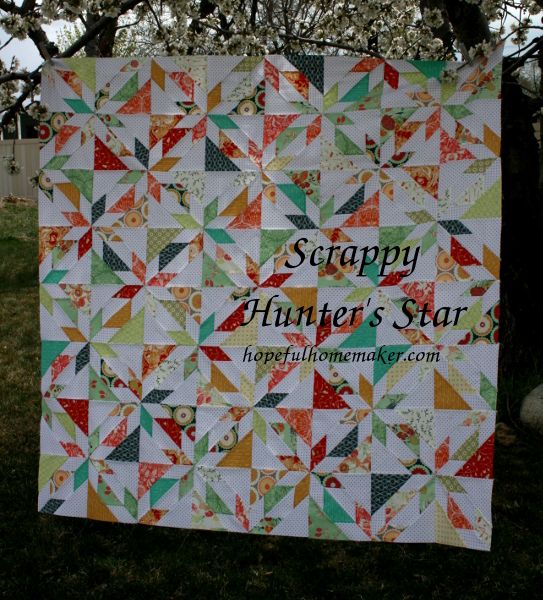 2. Make a Magic Carpet Quilt by Lizzie House with this lovely 1001 Peeps pattern by Andover Fabrics. I'll warn you; you might want their fabric when you see how cute it goes into this quilt! It's a great medallion quilt.  HERE is where you get the free pattern.  (Sorry no photo available)
3.  Here's a challenging looking quilt pattern called Lost at Sea by Project 360 designed by Alex Anderson. The design really draws ME in but then most of you know I love Mariner's Compass blocks.  I found this free quilt at RJR Fabric and it's a downloadable FREE pattern HERE.  I know; I know; you are saying it looks hard.  Some of my readers MUST be looking for a challenge! I agree it's definitely in the 'advanced' category.
4.  Here's a lovely quilt that calls for a certain novelty fabric.  I LOVE the chickadee fabric from Benartex and would happily add this to any quilt so I'm sharing the link to Chickadee Stars, a free quilt pattern designed by Jackie Robinson for Benartex Fabrics HERE.
5.  Here's a pretty quilt pattern FREE from Connecting Threads.  I love the bright colors in this quilt designed by Ann Johnson called "Perfect Points".  HERE is where you get this free pattern download.  This is a true skill builder quilt with all those points but imagine the sense of accomplishment when you get it done.