Have you ever participated in a "Quilt Along"?  There are always a lot of them going on.  Sometimes they are just referred to as "BOM"s, Block of the Month" Clubs.  I actually have several lined up to participate in!   I thought I'd share a few that I know are starting in January, 2014 and a few that have recently started but will be easy to catch up to.  This is by no means a complete list.  If you know of more, let me know and I'll do another list before the end of the month.
Some of these Quilt Alongs have a small subscription cost.  Some are Mystery Quilt-Alongs.   Some will introduce to new skills or hone skills you already have.  All of them will offer incredibly wonderful quilt blocks, I feel very safe in saying.  These are here in no particular order!
2014 Quilt Alongs
1.  Warm Cool Quilt Along  This is a 6-month quilt-along using warm and cool colors and all HSTs (half square triangles).  You can find it HERE.
Here's the host, Jeni Baker's photo of the Warm Cool Quilt.
2. Downton Abbey Quilt Along
This quilt along has begun but as long as you go over and join before January, you will have FREE access to all the patterns.  In January they become pay-for patterns.  Go HERE to get the info you need to start quilting.
3.  The Vice Versa BOM or Charmed Prints Quilt Along by GenXQuilters. This is a block of the month with classic blocks and their inversions (opposites) set in a surprising, modern way.   Check it out HERE.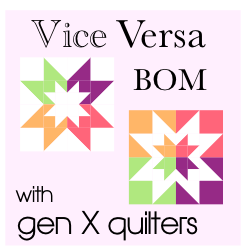 4.  Good Earth Quilting's Crazy Quilt Along 2014     Yes, it's just what it sounds like.  A crazy quilt!   Check out the "rules of engagement"  HERE at Good Earth Quilting.
5.  Delightful Stars Quilt Along    Quilting Gallery is sponsoring this quilt along for 2014 featuring Michelle Foster's stars.  This is one of Quilting Gallery's "Aim for Accuracy" projects.
6.  New Block of the Month for 2014   This one is found HERE and is a skill-builder course.  There is a fee for this BOM but it looks like it will be well worth it!  Check it out.
7.  2014 New Years Day Mystery Quilt from Quilting About.com  Go HERE for answers to your questions.
8.  Barn Door Quilt Along from sarahquilts.  Sarah corrected me. She's talked about fabrics but the Quilt Along begins Jan. 1st.  Check HERE for all the information.
9.  Are You Ready to Quilt Along   is a quilt along based on a quilt pattern called "Tone It Down"  in the February 2014 American Patchwork and Quilts magazine.  It was on the newstand as of Dec. 5th and there are nine designers/quilters that will be blogging about this during the coming months.  Check HERE for more details and a great photo.
10.  2013 Sugar Block Club     This quilt along actually starts with the first block pattern January 1, 2014.  There is a very small subscription cost which provides you a pattern each month along with a dessert recipe.  This is being sponsored by Stichery Dickory Dock.  Check HERE for more details.  This is a mystery BOM and it sounds like so much fun I signed up to quilt along!
11.  Last but not least, Pat Sloan is featuring a free BOM she has called "Globetrotting".  Click HERE for details.  I'll be following this one and will decide in January whether I can fit in one more BOM.
I have already signed up for a Pillow Pop Quilt Along over at Threadbias.  Click on the Pillow Pop Quilt Along button on the right side of the website.  It's going to be a LOT of fun!  Threadbias is a free sewing community where you can learn so much, join in when you feel like it and best of all, get fabulous ideas!!!  Check it out HERE.
I just love sewing with others who enjoy sewing.  I bet you do too. Check all those Quilt Alongs and BOMs and let me know in the Comments which ones you hope to participate in in 2014.  You can find a board on my Pinterest with all these Quilt Alongs so you won't have to go back in the Posts to find it later.  It might be easier just to check out my Pinterest board HERE.  I have lots of Boards on there with gazillions of ideas for everyone.  I hope you enjoy looking at my Boards and maybe finding something you've been searching for for a while.
Happy Searching.
Marsha